Looking Back at Historic Buffalo
From private homes to public works, Second Empire to Richardsonian Romanesque, Buffalo, NY is replete with the works of architectural masters in a prolific array of architectural styles.
Experience multiple works by Frank Lloyd Wright including the Martin House Complex, (the finest example of his Prairie Style), and Graycliff, his most important summer estate, Louis Sullivan?s ornate Guaranty Building, H.H. Richardson?s massive Richardson Olmsted Campus (now home to 
>Hotel Henry
), the graceful lines of Eliel and Eero Saarinen?sKleinhans Music Hall, Buffalo's system of parks and parkways by Frederick Law Olmsted, and the birthplace of the American Arts & Crafts Movement, the Roycroft Inn and Campus. And that?s just the beginning.
You?ll also take in buildings by Richard Upjohn, Stanford White, Lord & Burnham, Charles Atwood, and America?s first female professional architect, Louise Blanchard Bethune. You can see these works in textbooks or you can see them in Buffalo. Allow The Mansion's Butler Team to assist you in creating your itinerary to tour architecture in Buffalo: (716) 886-3300.
The Mansion on Delaware Avenue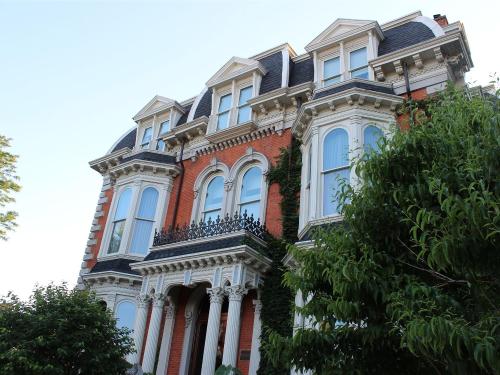 After standing vacant for a quarter-decade, this Second Empire structure was developed into Buffalo?s first restored historic hotel in 2001. The Mansion on Delaware Avenue has served WNY as the first of its kind, drawing national and international acclaim to both the hotel and city of Buffalo. The Mansion on Delaware Avenue stands among Buffalo?s historic landmarks as a celebrated architectural masterpiece, devotedly restored and maintained to emanate the inherent grandeur of years past. 
Architectural Points of Interest:
http://www.richardson-olmsted.com/
">
Frank Lloyd Wright's Martin House Complex
Buffalo is known for its' many intact original, historic neighborhoods and the Darwin Martin home is situated in the National Historic Parkside neighborhood, bordering the historic Frederick Law Olmsted Parks and Parkways. Constructed between 1903 and 1905 as the home of Darwin and Isabelle Martin, the Martin House exemplifies Frank Lloyd Wright's "Prairie House" ideal and ranks as one of his finest residential works.
http://www.hotelhenry.com/
">
Louis Sullivan's Guaranty Building
When the Guaranty Building was finished in 1896, it was ranked not only as Buffalo?s finest advanced-design office building, but one of the finest in the country as well, and today is considered by architectural historians to be one of the greatest architectural achievements in office buildings designed by one of the most important architects of the 19th century, Louis Sullivan of Chicago.
http://www.richardson-olmsted.com/
">
The Richardson Olmsted Campus
Home of http://www.hotelhenry.com/">Hotel Henry Urban Resort Conference Center
A partnership between noted American architect H.H. Richardson and landscape architect Frederick Law Olmsted to create the former Buffalo State Asylum for the Insane. The complex of buildings and grounds, with its signature Gothic towers, is a National Historic Landmark. The complex was ultimately the largest building of his career and is internationally regarded as one of the best examples of his signature Richardsonian Romanesque style.
http://www.bfloparks.org/
">
Frederick Law Olmsted's Parks and Parkways of Buffalo
The pre-eminent 19th century landscape architect, Frederick Law Olmsted, designer of New York City's Central Park, created the nation?s first interconnected system of parks, parkways and tree-lined avenues in Buffalo, NY, linking 1,200 acres of parks with one another and downtown. Click for more information on tours through the Olmsted Parks.
>Eliel and Eero Saarinen's Kleinhans Music Hall
Designed by the Finnish-American father and son team in what has been called a modern, neo-expressionist or International style; this National Historic Landmark has an international reputation as one of the finest concert halls in the United States and is considered one of the most acoustically perfect halls in the world. Home to the Grammy Award-winning Buffalo Philharmonic Orchestra.