Hotel Henry Urban Resort Conference Center
The Mansion on Delaware Avenue's Sister Property
>Hotel Henry Urban Resort Conference Center is an innovative 88 room full-service hotel and conference center with modern purpose, designed to fuse with the architectural legacy of the National Historic Landmark Richardson Olmsted Campus. Throughout the building, Hotel Henry?s uncommon spaces invite guests to explore, gather and tuck away in the unique character of Richardson?s masterpiece. Interior and exterior spaces invite guests to find their own corner and make their own experience. This is the distinct Hotel Henry experience.Hotel Henry?s Urban Resort Neighborhood offers a cosmopolitan Buffalo adventure that begins within steps of the hotel grounds. Situated amongst 42 acres within the city of Buffalo?s cultural corridor, the Urban Resort Conference Center is surrounded by parks, lake, museums, and connected to the fun and curious Elmwood Village. The Urban Resort Neighborhood is a borderless destination.
Henry Hobson Richardson, who is one of ?The Recognized Trinity of American Architecture,? constructed this Richardson Romanesque-style campus of buildings more than 140 years ago. America?s landscape architect Frederick Law Olmsted, who designed Central Park in New York City, as well as Buffalo?s beautiful park system, designed the grounds and gardens throughout the campus alongside architect and landscape designer Calvert Vaux.
100 Acres: The Kitchens at Hotel Henry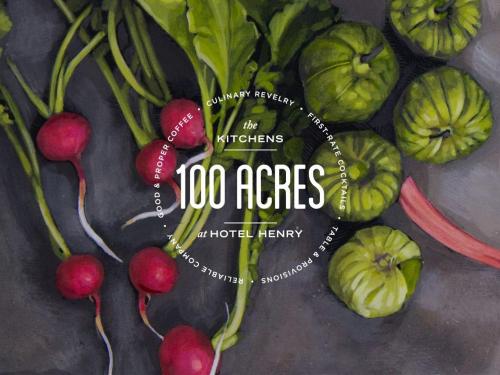 Experience food & beverage in different ways on different days as 100 Acres provides high-low dining offerings and styles. 100 Acres is about variety - variety of menu, variety in atmosphere and variety in experience where guests will always find something new, something different, something unexpected.
Sip morning coffee on the South Lawn or stop by for a casual lunch meeting. Celebrate with family or indulge in an elegant corporate dinner. All under one common menu. From guest chefs to pop-up dining throughout the property, 100 Acres: The Kitchens at Hotel Henry will surprise and excite with each visit.Learn more about 100 Acres 
>here
.