Butler Spotlight: Alain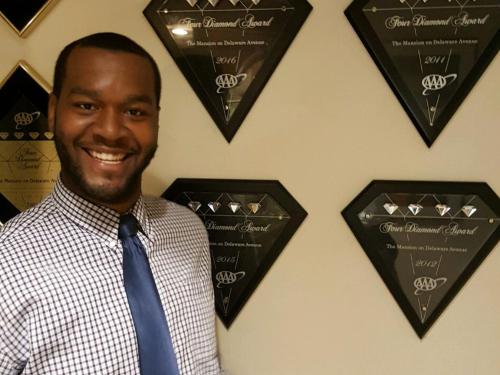 The Mansion on Delaware Avenue offers a deeper look into MoDA's award-winning team with the Butler Spotlight Series! Through the series you will hear from The Butlers about themselves, their time at The Mansion, and their favorite attractions in the city. This month we are proud to introduce Alain, an Evening Butler at The Mansion on Delaware Avenue.

Where are you originally from?
Long Island, NY

How long have you been with The Mansion on Delaware Avenue?
1.5 years.

What is your favorite thing about The Mansion
Location, location, location. Being at the end of Allentown and the beginning of the city, The Mansion's location allows guests to truly explore the city from the center to the edges.

What is your favorite city feature to recommend to guests?
Live music! From big shows at Town Ballroom, Canalside and Waiting Room to cozy spots like Pausa, Nietzsche's and Milkie's, guests nearly always have the option to enjoy a live show in the city.

What do you like to do in your free time?
Summer time means outdoors so you can find me strolling through the historic parts of the city and restaurant patio hopping.

Alain is one of the many incredible people who create The Mansion on Delaware Avenue's Butler experience. Stay tuned for the next Butler Spotlight feature!