Outfitting Your Home Bar
By Michael Fix, Food & Beverage Director

Thankfully, a nice bar setup is again becoming a necessity of entertaining at home. Comfort, cost and ease make it a great alternative to meeting out. A new generation of hosts are equipping themselves, and embracing old classics, as well as new craft cocktail recipes from their favorite Buffalo haunts. The indomitable spirit of discovery and individuality that permeates American culture adds to this phenomenon, as many create new libations on their own. Here are some equipment ideas to start with:
The Equipment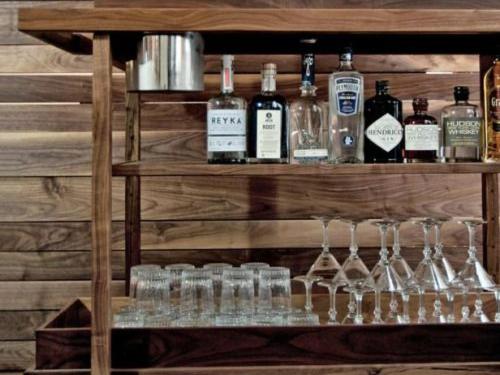 Cocktail Shaker
There are two options for this bar necessity. A cobbler shaker has three stainless steel parts; a base mixing vessel, lid with built-in strainer, and a cap to cover the lid while shaking. A Boston shaker is in two pieces; a standard pint mixing glass, and a slightly larger stainless steel mixing ?tin?. 

The Boston shaker is more versatile, but has a higher learning curve for handling. To further outfit your Boston shaker, get a julep strainer, which fits perfectly over the pint glass, and a spring-coil Hawthorn strainer for pouring from the mixing tin.

Jigger
An all-important piece. Actively measure your drinks, and eventually you will have better tasting, balanced cocktails. Perhaps one day, you will be good enough to free pour, retiring the jigger to a shelf deep in the recesses of your cupboard and memory.

Bar Spoon
A sturdy piece with decent length that will fit around the bottom of your mixing pint glass will be a constant friend.

You cannot make a proper Martini, Manhattan or Negroni without a bar-spoon, as these classics must be stirred. It cannot be stated enough, you MUST stir these drinks; it is barbaric and scary if you shake these, and the cocktail gods will never smile upon you again if you do. 

Please do shake your Daiquiris, Margaritas, Sidecars and Cosmopolitans with the Boston shaker, using the tin and Hawthorn strainer to pour into your well-chilled vessels.

Muddler
Essential for Mojitos, Old-Fashioneds, Cobblers and Smashes. Look for a natural wooden muddler, with no paint or stains that could gradually leach into drinks, and do not choose a muddler with ?teeth,? since you want to muddle, not tear fruit and herbs into flotsam. Muddling gently combines flavors and releases herb and citrus oils ? some of our favorite drinks are muddled.

Ice Bucket and Scoop or Tongs
You may improvise here, but double walled or insulated is preferable. The topic of various ice types is a whole other matter ? experiment with crushed ice and large cubes.

Waiter?s Corckscrew
Look for the double-jointed variety to make opening wine simple, with a serrated, or at least very sharp foil knife.

Bonus Accoutrements
Channel knife (for making those obscenely long, impressive citrus twists), tea-strainer for pouring muddled drinks, sharp paring knife, mini cutting board, vessels for freshly squeezed juices and garnishes, punch bowl, pour spouts, a nice pitcher for sangria or batch Martinis, wine rack, glass shelving and some reclaimed bar themed artwork or tchotchkes. Keep your eyes peeled for estate sales or antique shops stocking cool vintage glassware and tools.