Buffalo Brides: Wow With a Winter Wedding
Tips from Buffalo's Luxury Wedding Reception Venue
It's no secret that Buffalo is known for its blustery winters. Luckily, a snow dusted cityscape serves as the perfect backdrop for a winter wedding. From rehearsal dinners to wedding receptions, ceremonies and more, there are countless ways to incorporate the snowy weather into a dream wedding that is uniquely you! The events team at The Mansion on Delaware Avenue, WNY?s luxury wedding venue in downtown Buffalo, offer their best advice on how to achieve a dazzling winter wedding.
All photos in this post are courtesy of >Lydia Maybee Photography.
Take Professional Engagement Photos the Winter Prior
You know the best way to introduce a winter wedding? With professional engagement photos in the snow! Not only does this allow you to get a feel for a potential wedding photographer (or give you time to look for a new one), an engagement shoot offers the opportunity to get creative! Take a frosty walk down a city street or snuggle your fiancé under a snow-covered tree. Blow a snow-covered kiss to the camera or toss a snowball or two! Enjoy some time with your partner enjoying Buffalo?s most beautiful season ? nothing shows off a loving couple like some candid shots in the snow!
Lucky for you, Buffalo is full of tremendously talented wedding photographers with plenty of experience shooting in snow. Browse some frosty photography from online galleries from WNY photographers like 
http://www.city-lights-studio.com/buffaloengagementsessions/
">City Lights Studio. With the proper prep, you?re bound to have absolutely stunning wedding day photos like this one by 
>Lydia Maybee Photography
:
Seasonal Dishes for Unique Wedding Cuisine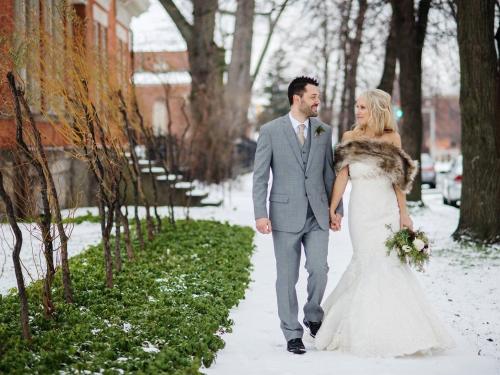 Standard greens are a tired addition to far too many reception menus. Incorporate seasonal produce into your reception dinner with winter squash, robust root vegetables, hearty greens, tangy cranberries and a variety of citrus fruits!

Be sure to work with a catering team that holds a local, farm-to-table mentality. They?ll be sure to source only the freshest, seasonal produce from local farms while working with you on a custom menu tailored to your tastes and preferences.
Keep it Cozy, Dress the Part, and Have Fun!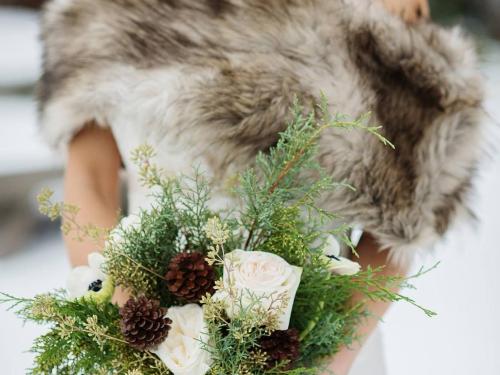 Keep it Cozy
Nothing warms an occasion like a fireside cocktail reception. Dimly lit rooms, soft candlelight, craft cocktails and red wine come together in a marriage that?s almost as beautiful as yours!

For décor, opt for ?Elegant Rustic,? with wood tones, deep greens and whites. Think pearls, pinecones, fur, and garland. Not only that, but your décor can easily make its way into your wedding wardrobe.

Dress the Part
Think faux fur throws and a deep, rich color palate. Look for seasonal bouquet options and floral accents like these from Buffalo?s own Ferncroft Floral.

Nothing compliments a white dress and snowy backdrop like deep, rich greens and earthy browns. If those aren?t your colors, deep purples, rich reds and navy blues are lovely options.

Have Fun
This is YOUR day! You're going to have an incredible time no matter what the setting. Looking for a venue to host your Elegant Winter Wedding? The wedding and event team at The Mansion on Delaware Avenue has years of experience. Call today to learn more!